The Kauai Beach Inn – Poipu Bed and Breakfast offers a very unique and laid-back way to experience Hawaii's Garden Island. Our authentic historic plantation home, situated on 1/2 acre filled with tropical fruit trees and other exotic plants, is the ideal home base from which to explore the many wonders of Kauai.
We offer a variety of accommodations so you can select just the right type for your style. Pamper yourself in a romantic suite with a jetted tub, large sitting area, and soothing lanai, or enjoy the coziness of a more intimate room. Regardless of what you choose, you will have access to plenty of space to stretch out, a flat screen TV with cable and Netflix, and free WiFi throughout the property.
Many of Kauai's best beaches, dining, and other attractions are an easy walk or short drive from our property. Our central location on Kauai's sunny south shore means that not only do we experience the best weather on the island year-round, but our guests have easy access to the best of Kauai as well. Waimea Canyon, the NaPali Coast, Kilauea Lighthouse, National Tropical Botanical Gardens, incredible scuba diving, snorkeling, golf, surfing, biking, hiking, and much, much more are all within easy reach.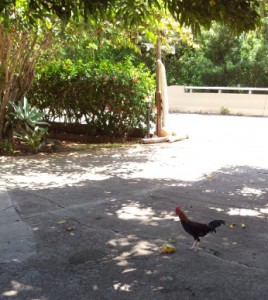 A brief note about Kauai's Roosters: Anyone who knows Kauai knows that wild chickens and roosters can be found on every part of the island. As you can see from this photo, they seem to love our mangoes almost as much as our guests do. And yes, they can be annoying on occasion, apparently having no sense of timing whatsoever. Fortunately, we have found that a good pair of earplugs goes a long way toward drowning out the nighttime crowing that can sometimes occur. We make these available to our guests at no charge. Noise-cancelling fans are also available at no charge upon request. It is believed that Kauai's small or non-existent mongoose population (unlike the large populations found on the other Hawaiian Islands) is the reason for our abundance of chickens, originally introduced by Polynesian settlers over 1,000 years ago. Of course, our lack of mongoose is also the reason that Kauai is home to six species of endangered birds only found on Kauai, making Kauai a birder's paradise. So despite the roosters' lack of consideration, we'll take the chickens over the mongoose.
Click Here to Check Pricing & Availability For Any of Our Rooms
Learn More About
Our Delicious Breakfasts | Our Suites & Rooms
Our Ideal Location in Sunny Poipu
Suites & Rooms at Kauai Beach Inn: Plumeria Suite | Bougainvillea Suite | Orchid Room | Ginger Room