"We have never looked forward to breakfast as much as we do here!"
~H.L., Zurich, Switzerland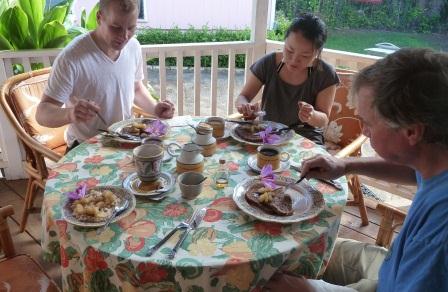 One of the things that makes staying at the Kauai Beach Inn such an outstanding value is the full tropical breakfasts our guests enjoy each morning.
"Best coffee I've ever had!"
We start with fresh-ground, locally grown, French press-brewed coffee (or you may choose from a variety of black, green, or herbal teas) and tropical fruit juice.
"It looks too good to eat!"
No matter how many times we see it, we still get a big kick out of how many of our guests insist on photographing their breakfast before eating it. Of course, we can't blame them—we do take a lot of pride in our presentation and preparation.
The first course usually consists of fresh local fruits (some are grown right here on the property), locally made granola, and other tropical treats prepared just for you. The second course is cooked to order and often includes fresh-baked breads, Patti's famous French toast or eggs, blueberry pancakes (we also gladly serve vegan meals upon request), and sometimes even Skip's Lyonnaise potatoes (this is a special treat, but don't be shy…you will find us very accommodating to your requests).
We serve a lot of food (but don't worry—you don't have to eat it all). Many of our guests tell us that the breakfast is so filling that they don't feel the need to eat lunch, which can come in handy if you're planning a hike or other extended adventure. And of course, when you factor in the cost of eating out, this is just one more reason that staying at the Kauai Beach Inn is one of Kauai's best values!
Breakfast is normally served starting at 8:00 am. For guests who have early-morning adventures planned, we can provide a convenient breakfast-to-go or other specialized accommodations based on your needs.
We also offer a variety of locations and settings in which to enjoy your breakfast. Inside, outside, alone or with other guests…it's really up to you. At the Kauai Beach Inn, our goal is to provide you with the best experience possible. So whatever your style, you'll find us eager to comply.
Click Here to Check Pricing & Availability for Any of Our Rooms or Suites
Learn More About
Our Suites & Rooms | Our Property
Our Ideal Location in Sunny Poipu